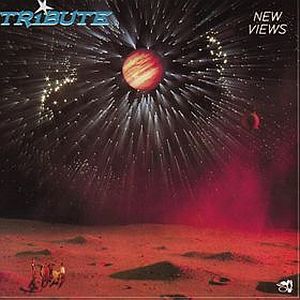 The debut album from this Swedish band.
The band was a seven piece big band with a lineup of flutes, percussions, bass, drums, keyboards, guitars, English horn, choruses and vocals. Both male and female vocals.
Tribute was more a tribute to music (!) project from the composer Gideon Andersson than a real band. But they toured Europe and sold a lot of albums. 20 000 of this album alone.
Tribute released three studio albums and one live album before splitting up.
ProgArchives
has them down as a crossover prog band. I agree. Large parts of this album sounds like a Mike Oldfield project. It is very ambient and very pastoral. But you should also add a lot of Genesis and Camel into this mix. There are also a few hints of Swedish folk rock on this album.
The music is very pastoral at times. Pastoral with a lot of flutes and acoustic guitars. That is how most of this forty-five minutes long album gives us. The sound is also a mix of the 1970s and the 1980s.
There is a couple of reasonable good songs where intertwined with some pretty dull ambient pastoral tracks. It is not something I find of any substance, this music. It also has this cinema music feel. A pretty boring cinematic experience.
This is a pretty decent album who does not stand the test of time. There is a lot of far better albums out there. Mike Oldfield's albums, for a start. But check out this album.
2 points