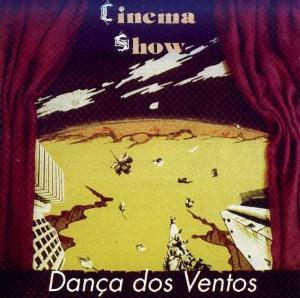 The one and only album from this Brazilian band.
The band was a quintet with a lineup of drums, synths, piano, guitars, bass and Portoguese male vocals.
Cinema Show was one of the many Brazilian symphonic prog bands who released one album and then split up. Far too few bands survived the first album and went onto releasing more albums.
By choosing this name as the band name, the band has associated themselves with Genesis. Which will always raise some eyebrows.
Cinema Show does indeed sometime sound like Genesis. But there is more than that to this band. They like to go out and play with a lot of different rhythm structures. So much that they sometimes approaches Rush in their style. There are also a lot of neo-prog in their music too. This album is actually much more a neo-prog album than a symphonic prog album.
This band is not a 1970s copycat band as their sound is pretty modern. Well, pretty much in the 1990s, that is.
The vocalist tries out his English on two songs and fails a lot in this respect. He should have kept to his vocals to his mother-tongue.
That aside, this is a good album with a lively sound and one hour of good music. Music that has a lot going for it and a lot of life. Even in the more pastoral melodies. It comes recommended from me.
3 points