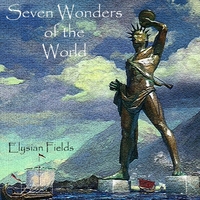 The second album from this US band.
Elysian Fields
is a trio with a lineup of keyboards, bass, drums, guitars and vocals.
The band is from St. Petersburgh in Florida, USA. They released their debut album Homage back in 2005.
They are not the most productive band in other words. Or this may now be a project for all I know.
This album is about...... surprise, surprise...... about what once was the seven wonders of the world. Some of these seven wonders has now fallen down. The sculpture on the picture is one of them, I am afraid. An earthquake sent that one tumbling down to the earth and into the sea. I read something about this forty years ago, you see.
The band has described this album as a mix of ELP, Yes, King Crimson and Genesis. Something they are free to do.
They also adds English pop as a reference. They are pretty right about that.
This album has some good vocals on this pop-orientated prog rock album. There is also a lot of piano here. The music is very melodic and light. There is no bombastic melodies and time shifts here.
The quality is not as good as I hoped. There are some decent stuff here and some pretty good stuff here. The sound is very good and it has this US sound. US prog rock sound, that is. It is a sweet sound. But this is still not a good album. Check out this one hour long album for yourself.
2.5 points