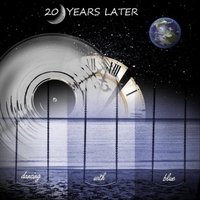 The second album from this New York, USA band.
The band
is a trio with a lineup of flute, harmonica, guitars, bass, drums, saxophone, keyboards and vocals.
This band released their debut album back in 2012 to no fanfare. Dancing With Blue is the follow up to that album.
The band lists Styx, Jethro Tull and Pink Floyd as the bands they think they sounds like. I am not so sure about that.....
The music on this forty-six minutes long album is pretty hard progressive rock with some AOR influences. There is also some straight rock here. Straight US rock and some folk rock influences. The music sounds fresh and pretty youthful.
There is one long song here, a fifteen minutes long song, who are clearly in the progressive rock vein. And they sounds a bit like Pink Floyd here..... I have to admit. It is not a great song.
The other eight songs are pretty short and chorus-verse-chorus dominated. There is no great solos here. Just a lot of harmonies and the band working together as a tight unit.
There is a mix of decent and good stuff here. I am not convinced that this is a good album. Hence the rating.
2.5 points