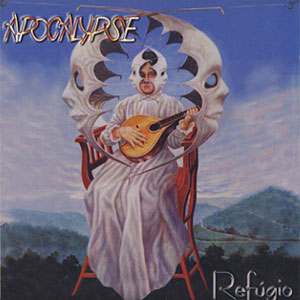 The fifth album from this Brazilian band.
The band was a quartet on this album with a lineup of guitars, bass, drums, keyboards, synths and Portuguese vocals.
The band has given us some good albums up to now, without really making any great albums. Or for that sake, any great songs.
Their mix of South American folk music/pop and English neo-prog and symphonic prog is what we have got from them on their previous four albums. The band has this very typical South American symphonic prog sound.
This is a very cosy and warm sound. It is a sound I really like. I really like this band and their sound.
Hence, I really want a great album from them and have reviewed their four previous albums in the hope that they have released a great album.
There is plenty of good music on this one hour long album. The final two tracks, thirteen minutes altogether, is two live tracks from a gig in USA. But there is fifty minutes of new stuff here.
The band has again come up with a good album. Some would even call this a great album. I am not. This album is sorely missing a great track or three. Something which would rise it's head above the rest of the stuff.
This is indeed a good album and a good mix of symphonic prog and neo-prog. The vocals are good and there is plenty of details to enjoy here. Some of the music here is really playful too. That makes for a good hour in the company of this album. Check it out.
3 points