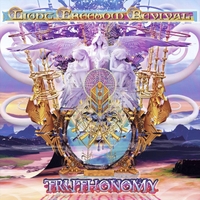 The second album from this Canadian band.
The band
is John Vehadija's (lead vocals) band. He has got help from five other musicians who provides piano, bass, drums, guitars and vocals.
Among these musicians is Billy Sherwood and Oliver Wakeman.
The music is listed as spritual, progressive rock and new age. Which is not far from the truth.
The music is a bit neo-prog with a lot of pop-rock and Christian rock influences. I am by no means sure that the gospel and spirituality on this album is Christian/is meant to be Christian. I do not care either.
The vocals and the instruments is of OK quality on an album which has not much technical stuff.
The music on this one hour long album is pretty uncomplicated and not challenging at all. Keeping the interest in this album is the only interest as the music here is very bland and too sugary sweet. Far too sugary sweet.
This album is by no means a disaster. Neither is it an interesting or a good album either. Check out this album with a lot of caution.
2 points