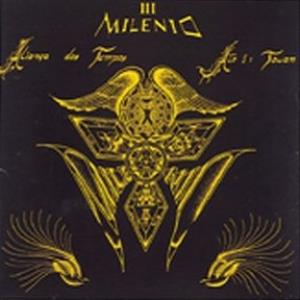 The one and only album from this Brazilian band.
The band was a five piece band with a lineup of guitars, bass, drums, synths and Portoguese male vocals.
It seems like I, by sheer accident, is currently reviewing some albums from Brazilian symphonic prog bands. Which is a good thing for me as this is a very good scene.
Ill Milenio was a band who got more liked and famous outside Brazil than in Brazil. This album was released in 1990 by a local label before Musea in France re-released the album with 20 minutes xtra stuff in 1993. I got the Musea version.
Clocking in at almost eighty minutes, this album is one heck of a mouthful. In particular when it only contains two pieces of music. Act 1 and Act 2.
Yes, the music here is very theatrical, operatic and symphonic. It could have been a great opera too if it was not for the vocals. The reason why people will have problems with this album is because of the vocals. They are not something you have to get used to. No matter how many times you listen to this album, you will soon conclude that they are horrible.
Herein lays the problem of this band and this album. The vocals is the murderer.
The music is not too bad in itself. Act 1 is a lot better than Act 2. It has a more flowing feel to it, despite of lasting around fifty minutes.
Fans of Japanese, Brazilian and even Italian symphonic prog will like this album. It is by no means a bad album. It is slightly too long, even as a fifty minutes long album. But there is a lot of good ideas scattered around this album. Check out this album.
2.5 points