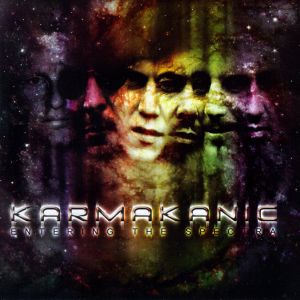 The debut album from this Swedish band.
The band was an eight piece big project on this album with a lineup of guitars, bass, drums, keyboards, percussion and vocals.
Karmakanic has so far released five albums. I
reviewed
their fourth album back in July 2011 for ProgArchives. The other three albums will be reviewed/has been reviewed in this blog.
Karmakanic was and still is Jonas Reingold's own project away from his main job; The Flower Kings. That band is all contributing on this album.
But no, this is not a The Flower Kings album in all but the name. Jonas Reingold has moved away from that band on this album and gone a bit in other directions.
Yes, there is a couple of songs here which fits the Flower Kings mould. But this band is much more heavy and much more into the progressive metal mould than The Flower Kings.
Dream Theater springs to mind here after an introduction of two The Flower Kings'ish songs. There are also some jazz stuff here and some English like symphonic prog. Add some funk too and you get the picture. This is not a The Flower Kings album.
Jonas Reingold is following his own heart on this album. So much is clear. But this is a bit confusing for the rest of us, this fifty-four minutes long album. I hope their other albums is better than this one.
2.5 points