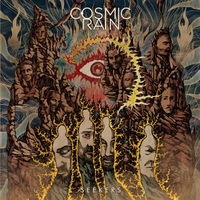 The debut album from this Swiss band.
The band
is a quartet with a lineup of keyboards, guitars, bass, drums and vocals.
The band list Katatonia, Dream Theater and Opeth as references on their CD Baby website. Well...
Forget Dream Theater as they are far more traditional prog rock focused than than this band from Switzerland.
So we are left with Katatonia and Opeth. My finger is pointing at Opeth and their last two albums. Cosmic Rain is clearly very inspired by these two albums and by Opeth themselves.
The vocals are very much in that direction too. They are both growl/screamo and very melodic. So is the keyboards with the occasional diversion into a Moog sound.
The music is a mix of more pastoral and more metal orientated prog rock.
The album is thirty-six minutes long and it is a decent to good album. It is an album that should make Opeth fans get this album. I happens to think this band has a future. Not as my favourite band but as a good band in the scene.
Check out this album.
2.5 points