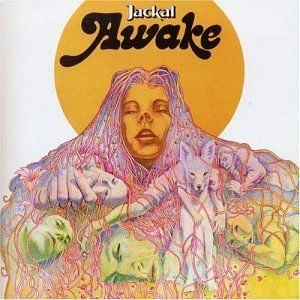 The one and only album from this Canadian band.
The band was a quartet with a lineup of guitars, bass, drums, organ and vocals.
This band was from Toronto, the same town who gave us Saga, Triumph and..... Rush ! My alltime favourite band Rush. But I had never heard about Toronto's Jackal (but I knew the US hair-metal band Jackal) before until I bumped into this album on Youtube and
read about it in ProgArchives.
The artwork would also be a plus for my blog, I quickly discovered.
So I gave this album a listen....... and I was grinning like a cat after ten minutes.
It is fair to say that this album, lead by the Kellesis brothers, is a hidden gem. The music has been described as Heavy Prog in ProgArchives. Which is correct. Hard Psych is probably the right label though, although ProgArchives does not have this one. Fair enough !
There is a lot of psychedelis prog on this album. The whole forty minutes long album to be more precise. A lot of guitar and organ solos.
The album is also very melodic with a lot of references to the good old beat music scene from the 1960s. The Animals, early Deep Purple and Doors springs to mind. Ditto for Jefferson Airplane.
The songs are all well crafted with a lot of interesting melodies and hooks. The vocals are good throughout. Ditto for the sound. My only gripe is the lack of any very good or great songs.
The end result is a good album with it's own charm and style. One of the better finds among the obscure and forgotten albums/bands it is too. Check it out for yourself. Me think you will like it as much as I do.
3 points