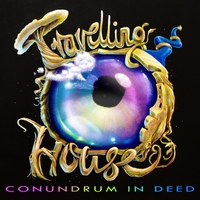 The debut album from this London, England based band.
The band
is a quartet with a lineup of guitars, bass, drums, piano and vocals.
There is also some woodwinds and harmonica on this album.
This one of the very many debut album in the progressive rock genre I have got from this year. Some of the albums is more or less progressive rock. Which is my genre. But I do not always find what I expect when I start to listen to an album.
This album is forty minutes long. The band wanted to re-create the progressive rock sound from the 1970s. Well, they have not.
There is a lot of vocals here backed up by piano and guitars. The lyrics is a bit absurd. The music is somewhere around David Bowie in his more singer/songwriter era. His first albums in other words.
There is also some jazz and funk here.
The music is pretty simple and not overly based on instruments. The vocals is everywhere and they are OK.
This a singer/songwriter album and the music is not particular good or interesting. The end result is therefore a decent album and I fear that it falls a bit flat on it's face between the genres. It is not a progressive rock album.
2 points