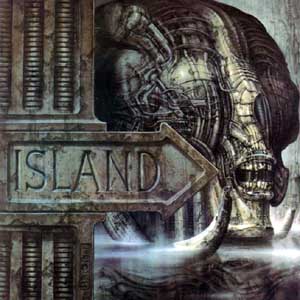 The one and only album from this Swiss band.
The band was a quartet with a lineup of saxophone, flutes, keyboards, piano, clarinet, bass, gongs, percussions, drums and vocals. English vocals.
The H.R Giger painting should really act as a warning. It did indeed warn me against this album for the best part of ten years before I recently purchased it.
The music here is really, really dark........ on the surface. We are also talking hyper-complex music here. Take a big chunk of Gentle Giant and add influences from the likes of Van Der Graaf Generator, Present and King Crimson.
Their listing as
Eclectic Prog in ProgArchives
has seldom been more fitting and precise. This is indeed very eclectic music. All the fifty minutes of this album.
The music is rhythm, saxophone and keyboards driven with some really good vocals on the top. It is not easy to follow the twists and turns of this album. But there are some really gemstones hidden among the various time-shifts. Not to mention that the time-shifts, twists and turns on this album is very good too.
This is indeed a very good album and one of the hidden gems in the progressive rock scene. One that makes this blog a very exciting hobby. Check out this album !
3.5 points