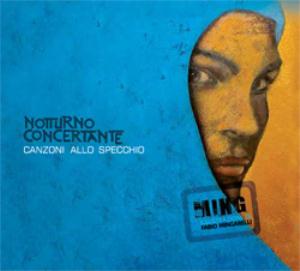 The sixth album from this Italian band.
The band was a nine piece big band on this album with a lineup of guitars, clarinet, saxophone, accordion, violin, bass, keyboards and Italian vocals.
This album is so far their latest album. I have reviewed their second album and their third album. Both was turkeys, 1 pointers, in my opinion. I am not a fan of this band........
Canzoni Allo Specchio is an album with a good reputation though so I decided to give this album my attention.
The neo-prog from the not so beloved previous albums (OK, I have not heard their fourth and fifth albums...) has gone. It has completely gone, in fact. The band now sounds like their band name. A concert in the night.... That is what Notturno Concertante, roughly, is translated into English means..... or even better; a nocturnal concert.
The music here is folk rock. Italian folk rock with a lot of keltic and symphonic prog inspirations. The violins and accordion adds this folk rock feel. The saxophones adds some gypsy and jazzy flavours to this party. The vocals is really great here.
The music is pretty much polished and well crafted. The folk rock here is very melodic. But it sounds real and not commercial....... although thousands of good, respectable homes should have a copy of this album. The music on this forty-five minutes long album feels like the real deal to me.
There is no great songs here and that is my only gripe with this album. But it is a good album well worth checking out if pastoral Italian folk-rock is your thing.
3 points