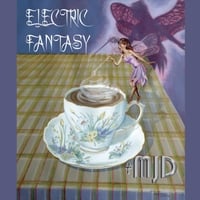 The debut album from this US one man project.
M J D is Mark Jeffrey Dye
from the prog rock band Elysian Field. He does everything here. The vocals, guitars, bass, drums and keyboards.
He has now retired from a long career in the music business and free to do whatever he want to do. That means to really do the music he likes. The music he has written for many years.
The result is Electric Fantasy.
This album is forty minutes long and gives us a mix of neo-prog and US symphonic prog.
There is some Kansas here and a lot of elegant neo-prog. The songs are medium long with the longest one topping out at six minutes.
The vocals are really good and ditto for the keyboards and the guitars. It proves that Mark has lots of knowledge and experience in this game.
That shows in the songs and the melodic interludes on this album. The music is really good and a pleasure for the ears. There are no great pieces of music here though.
Fans of melodic, light progressive rock will really like this album a lot. Check it out.
3 points