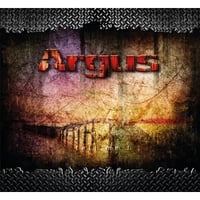 The debut album/so far only album from this Dutch band.
The band
was a quintet with a lineup of drums, bass, keyboards, guitars and vocals.
Argus is a band who tried to emulate the neo-prog sound in the spirit of the 1970s symphonic prog bands. They are not the first ones who has done that and the results is normally something I like.
The sound and music is in this instance pure neo-prog though and in the Dutch/English neo-prog sound.
The songs are pretty long. On average eight minutes, if I am not much mistaken. The album is fifty minutes long.
Pendragon is a good reference when it comes to the music.
The sound is not particular good on this album and the vocals is at times painful. Both for the vocalist and for the listener.
The songs are OK. But the sound, vocals and the band itself does not live up to the required standards, I am afraid.
This is a decent enough album though. But not all neo-prog is good.
2 points