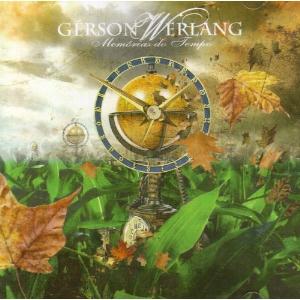 The debut album from this Brazilian artist.
Gerson Werland does the vocals, keyboards and guitars here himself. He got help from numerous other musicians who contribute drums, bass, violin and female vocals.
Gerson Werland
was the vocalist in the Brazilian band
Pocos & Nuvens
. A symphonic prog band who released two albums almost twenty years ago. These albums has been reviewed
here
and
here
. As you may have gathered from the reviews, the band never got a new fan in myself. But I respect them.
And we are again back in the Brazilian and Poco & Nuvens version of symphonic prog. That means gentle and pretty pastoral symphonic prog with a lot of folk and pop-rock influences.
There are not much distorted guitars and other instruments. The music is nice and there is a lot of male and female vocals here. The music is mostly performed by keyboards and acoustic guitars.
All vocals on this forty-eight minutes long album are in Portuguese.Which adds great colours to the music. Music who is not great. Neither is this a good album. The music is too bland and too wishy-washy.
Nevertheless, this is a decent album. Check it out if you feel for it.
2 points