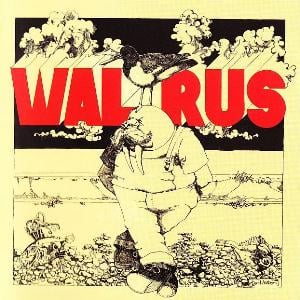 The one and only album from this UK band.
Walrus
was a nine members big band with a lineup of woodwinds, bass, guitars, percussions, drums, cowbells, claves, organ, piano and vocals.
This album was released through Decca and their imprint Deram, no less. This was a progressive rock label at that time. Which makes me wonder......
.... What is this album doing on that label ? OK, it is not as strange as I have outlined. Walrus did blues with a progressive edge. There is also a lot of soul and beat here.
The brass and woodwinds plays a very dominating role in their sound. It is everywhere together with the vocals.
The raw vocals from Noel Greenaway is very raw and unique.
The end result is a forty-four minutes long album. A very strange album. Yes, the music is pretty straight forward and not avant-garde in any form or shape. But the soul makes this album into a strange bird. A peacock, no less.
The quality is not that good. This album is far more strange/unique than good. It is nevertheless a decent album which may surprise everyone. And yes, it deserved it's place on Decca and Deram.
2 points