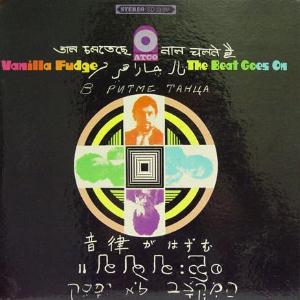 The second album from this US band.
Vanilla Fudge
was a quartet on this album with a lineup of keyboards, guitars, bass, drums and vocals.
I reviewed their 1967 self-titled debut album
back in October 2011 for ProgArchives
and then forgot about the band. Then I bought their drummer Carmine Appice's biography and my interest in this band was rekindled. Their following four albums was purchased and will be reviewed/has been reviewed in this blog.
I have no idea why the band hit the self-destruct button after the release of their popular debut album. Even Carmine Appice did not have a good explanation for this album.
The Beat Goes On is a three quarters of an album with soundbites and extracts from Elvis, Beatles and classical composers pieces of music. Then there is some talking over some music at the end.
This is an incomprehensive album. It is also an incomprehensive bad album. I have no idea what the band wanted on this album. It is a piece of nothing.
I have heard some really bad albums in my life. The Beat Goes On is among the five worst albums I have ever had the displeasure of listening to and reviewing. What the heck was these four boys and their record label thinking ?
1 point