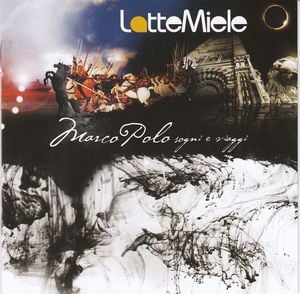 The fifth album from this Italian band.
Latte E Miele
was a quartet on this album with a lineup of keyboards, bass, drums, guitars and Italian vocals. Four other musicians contributed to this album.
This is the same setup from their two first albums. This was also their return after the horrible 1994 album Vampyrs and their three 1970s albums. I have with intent bypassed Vampyrs. Reviews of the three other albums can be found somewhere else in this blog.
Marco Polo is a concept album about, guess what...... Marco Polo and his journey to and from China. A mythical journey and also a well documented journey. This album follows this journey.
The vocals are in Italian and there is not much I understand. The music though is a form of Italian progressive rock..... If I am rather kind.
Pomp rock is more what I would label this album as. The music is operatic and musicals like. Strings, guitars and keyboards are very soft and not particular dynamic. Ditto for the vocals. There are some sporadic outbursts of classical music too.
There is not much technical stuff here. Not much progressive rock either. The quality is decent to good throughout. I am not enthused and will not remember this album with great fondness.
2.5 points