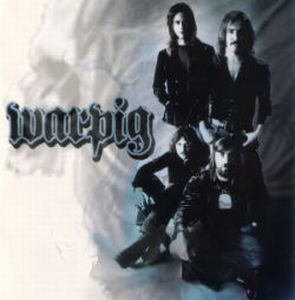 The one and only album from this Canadian band.
Warpig was a quartet with a lineup of guitars, keyboards, bass, drums and vocals.
1970 was a great year for hard and progressive rock. My blog is full of albums released in 1970. That year is following me everywhere, I feel.
Besides of the Deep Purple, Led Zeppelin and Black Sabbath masterpieces, bands like Warpig from Canada also released their album. Their name is not taken from Black Sabbath and one of their masterpieces. This because the Canadian band was formed and named long before Black Sabbath released that masterpiece.
The music on this forty minutes long album is pretty hard, though. Take psychedelic prog, tune it up with hard guitars and add some blues and beat too.
The guitars, bass and drums are thundering. The vocals are OK too and there is also a lot of melodies here.
This was the hard rock of those days and this album is a potent delivery of eardrums shattering music. This album feels very dated today and it has not dated as well as the albums from 'Sabbath, LedZep and 'Purple.
Nevertheless, this is a charming, decent album. It is well worth checking out too.
2 points