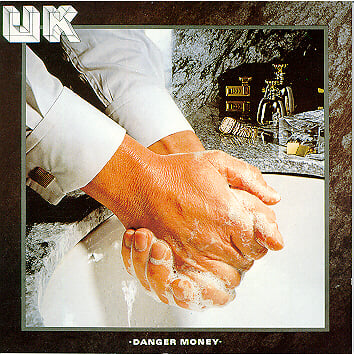 The second and final album from this British band.
Allan Holdsworth had taken his guitars and departed the band after their debut album. Bill Bruford had also taken his drums and departed the band after that album. What was left of this supergroup was Eddie Jobson (electric violins and keyboards), John Wetton (bass and vocals) and Terry Bozzio (drums and percussion).
UK
was one of the first progressive rock bands I ever listened to. But I forgot to review their two albums.... Actually, I was not even a member of ProgArchives back then. That is ten years ago. That is now rectified as
I reviewed their debut albums
a few weeks ago..... or was it two weeks ago. Two weeks it is.
The debut album was a very good mix of AOR and jazz. But the songs were not that great and I am failing to see why this band is legends...
.. Well, I now know why. The lack of guitars means Eddie Jobson is being let loose. His keyboards and electric violins is great here.
The title track is a very catchy track..... and a great one too. The other short tracks are very good, with the exception of Caesar Palace Blues which is another great track. Yes, the album has been pretty cheesy up to now with some great vocals by John Wetton too. Vocals he use to great effect on the great track Rendevouz. Another cheesy track, but it is still a great track.
This forty-two minutes long/short album is full of very interesting and great details throughout. It is a a proper feast for my ears.
The big track here is the twelve minutes long Carrying No Cross which has Eddie Jobson in full bloom on his electric violin and keyboards.
The end result is a great album which very much survives the test of time. It has actually become better in my view. It is like a fine bottle of wine. Enjoy this great album.
4 points