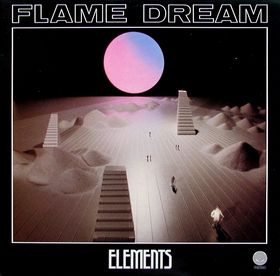 The second album from this Swiss band.
Flame Dream
was a quartet on this album with a lineup of woodwinds, bass, drums, keyboards, percussions and English vocals.
As I noted
in my review
of their 1978 debut album Calatea, the band was very influenced by Genesis. They were pretty close to a Genesis clone on that album.
There are some woodwinds on this album. Let me get that in first before I continue. What I will continue with is the very obvious similarities between this album and any of the Genesis albums from A Trick Of The Tail to Duke. Well, at least A Trick Of The Tail to Wind & Wuthering. I am not so sure about Duke and Then We Were Three. But you get my drift.
There is a lot more piano and a lot more woodwinds in Flame Dream and this album than there was ever those in Genesis. But there is some pretty blatant Genesis ripoffs on this album. And we are talking about more than a couple of ripoffs.
The difference between Genesis and Flame Dream is the considerable difference in the quality of the songs. That said, there is not much wrong with this album, Elements.
This three quarter of an hour long album, divided on four songs, delivers the goods. The songs are elegant and in the good old symphonic prog vein. There is even some ELP influences on some of the songs.
The result is a good album. A really good album and more than a good album if Genesis (and ELP) is the only band that makes your world move. Check out this album on Youtube before commiting money.
3 points