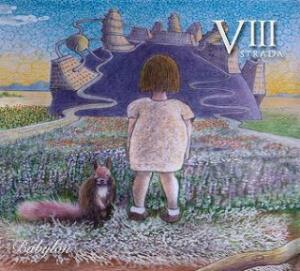 The second album from this Italian band.
The band is a quintet with a lineup of guitars, bass, keyboards, drums and Italian vocals on this album.
When
I reviewed their 2008 debut album La Leggenda Della Granda Porta
back in November 2013, I feared that I was reviewing their one and only sign of life from this band. Thankfully, I was wrong.
The band
returned seven years later with this album, the Babylon album.
The album was released by Fading Records too, a member of the AltRock family. That means quality.
I noted in my review of their debut album that the band operated somewhere between progressive metal and RPI, Italian progressive rock. This is true on Babylon too.
This album is very melodic with a great Italian flavour. It is perhaps not a true Italian symphonic prog album. Their music has a very contemporary sound and a lot of progressive rock influences.
When that is said, this fifty minutes long album has a lot to offer to both prog metal and RPI fans. It is a very good crossover album between these two genres.
There is no real great songs here. Nevertheless, this is a good album which is well worth an investment. Check it out.
3 points