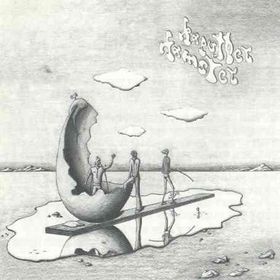 The one and only album from this German band.
The band was a quintet with a lineup of guitars, percussion, drums, bass and English vocals.
The Krautrock scene has given us a lot of weird and wonderful bands and albums. It has also given us a lot of weird and.......well, just weird albums.
There is a lot of one-albums bands in this scene. Some very obscure albums only the bands and
ProgArchives
knows about.
I really like the band name a lot. A nice addition to this blog ! The music is also a bit weird....
Take the Amon Duul albums and mix them with the first Amon Duul II albums. Then you get this album. There are some mindless jamming in the beginning of this album who does nothing for me.
The first half of this album is rather dull and uninteresting.
The second half of this forty minutes long album is far more interesting with a lot more well crafted song structures.
The pointless drum solo in the middle of this album is just annoying and is breaking up a pretty good melody structures.
The end result is a decent album who is well sought after on the second hand market, but still pretty low on substance. I am not won over... But the band name is great !
2 points