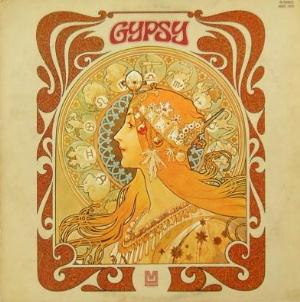 The debut album from this US band.
The band was a sextet with a lineup of guitars, keyboards, bass, drums, percussions and male vocals.
One guest musician did the strings arrangements too.
Gypsy
was a US band who altogether released five albums with moderate success. But their first two albums were all colourful to say at least.
This album were a double LP, sixty-six minutes long. A very brave step for a debut album. The first three sides of this double LP is devoted to short'ish tracks. They were on average four minutes long. Which was not really that short in 1970 where the three minutes barrier were a real thing for the radio and jukeboxes.
Their music is a mix of commercial pop, Crosby Stills & Nash, Santana, psychedelia and progressive rock. There is plenty of latino rhythms here and there is plenty of interesting details. There is also commercial pop anno 1970 here too. But no real hit songs and no real cringeworthy moments. This despite of some songs being too rich with sugar.
The strings also adds a lot of cheese to this album. The album is a bit dated. Then again, it sounds fine and relevant anno 2017.
The end result is actually a good album with lots of interesting details and melodies inbetween the cheese and sugar. It is an album I have found enjoyable. Check it out.
3 points