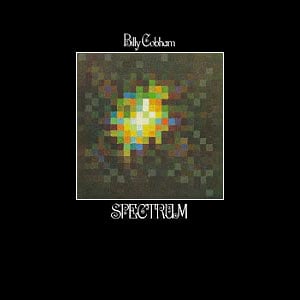 The debut album from this US drummer.
This album was recorded by nine musicians with a lineup of drums, congas, guitars, bass, woodwinds, flutes, moog and piano.
Billy Cobham is another jazz musician who broke into prog rock and fusion after playing on the classic and groundbreaking Miles Davis album Bitches Brew. He also played in Mahavishnu Orchestra too. Altogether some great albums. Before joining up with Miles Davis, he also played drums for several trad. jazz musicians.
Spectrum is an album very much influenced by Mr. Davis and Mahavishnu Orchestra. He was very much influenced by his earlier work, in other words.
The later (and rather tragic heroin overdose victim) Deep Purple guitarist Tommy Bolin does the guitars and Jan Hammer does the keyboards. Tommy Bolin's guitars here is far better than on the Deep Purple albums he can be found. Billy Cobham's drums is also from another planet. So great are they.
The music is fusion with some Latin-American influences. And the music is great throughout. It is really a fusion-fest and one to really enjoy.... and admire !
Check out this great album.
4 points