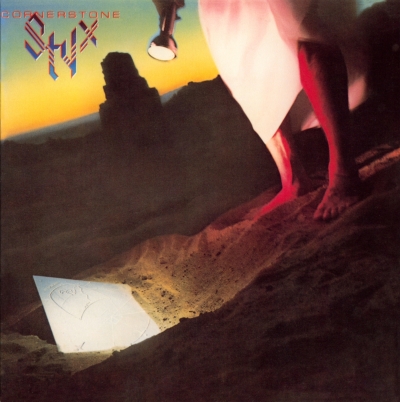 The ninth album from this US band.
The band was a sextet on this album with a lineup of guitars, bass, drums, keyboards, mandolin, autoharp, saxophone and vocals.
The band were in their commercial best days on their two previous albums The Grand Illusion and Pieces Of Eight. Both albums shifting millions of copies.
Their mix of teenybopper rock, hard rock and AOR were filling stadiums. Their music was the perfect antidote to the Vietnam war.
This indeed were the arena rock era. And with Cornerstone, Styx packed the arenas. This album also gave them their first ever # 1 hitsingle. It is a ballad and it is called Babe. It is a good song too.
Cornerstone also gave the band some minor hits in different countries and territories. It was a multi-million selling album too.
Quality wise anno 2017, this is not a bad album. It has some more theatrical pop stuff, some harder rock and some teenybopper rock. There is also some AOR here. In short; this is arena rock and the music could only be written and recorded by an US. This album has born in the USA all written over it. And it is a feel good album.
OK, the music is covered in cheese and banalities. But most of this album is rather good. This is actually a good album. Say C H E E S E and listen to this album.
3 points