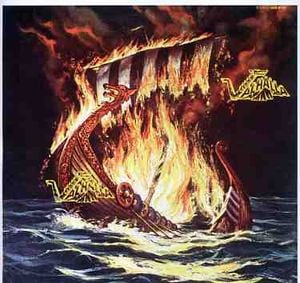 The one and only album from this US band.
The band was a quintet with a lineup of guitars, bass, keyboards, drums and vocals.
This band
released one album and then disappeared again. It is one of the many bands with one album and then decades in obscurity. Make that, an eternity in obscurity. But thankfully, ProgArchives and Youtube has given this band some attention. Well deserved or not.
Released in 1969, this album is not fully prog rock. We are here talking a mix of psychedelia, hard rock and pop music. That means a lot of keyboards and guitars on the top of a solid rhythm duo.
Good references here are early Iron Butterfly, Steppenwolf, Vanilla Fudge and Deep Purple. This album is not as hard rocking as the cover artwork tells you. The bark is worse than the bite.
This forty-four minute, a full length LP, offers up a nice nostalgic trip back to the flower-power era. Because this is really flower-power with some vikings images thrown into the mix.
This is not really a good album. It has a couple of good moments. But the music here tells you why this band never really made it past this album. It is an obscure album for a reason. A good reason.
Nevertheless, this is a decent album who everyone into the late 1960s psychedelia should check out.
2 points