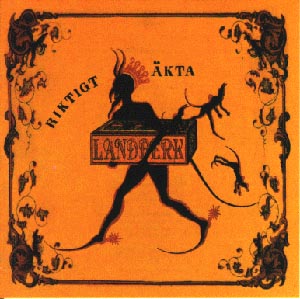 The debut album from this Swedish band.
The band was a quintet on this album with a lineup of guitars, bass, drums, keyboards, percussion and Swedish vocals. Simon Steensland were a guest musician (drums) on one track and Reine Fiske played guitars throughout the album as a regular member of Landberk.
I was very pleased with their second album Lonely Land who
I reviewed three years ago
.
The band was together with Kaipa the forefathers of the Scandinavian symphonic prog sound. That is progressive rock with a strong folk rock influence.
This album has a very strong Swedish folk-rock and traditional Swedish hymns influence. So much that the album is standing with at least one leg in this tradition.
There are some heavy guitars from Reine Fiske on this album too and some meditation pieces too on this forty-five minutes long album. This album is very pastoral throughout.
This album is not a progressive tech-wunderkind album. But it is done with style and conviction, as alluded to in the title.
This album is also a very good album just as the follow up album Lonely Land was a very good album. Check it out if this sounds promising.
3.5 points