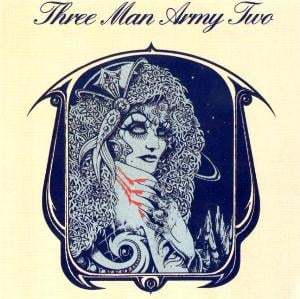 The third album from this English band.
The band was again a trio with Adrian Gurvitz on guitars, keyboards and vocals. His brother Paul Gurvitz served the cause on bass and vocals. The only non-family member was Tony Newman on drums.
This is their final proper album, the 2005 album Three Man Army Three only being an archives and leftovers album.
I have a lot of respect and admiration for this band. Something they have earned on their three albums. Their two first albums was a mix if psych, hard rock and some beat music.
The trio has not changed much since their 1972 album Mahesha. We still get a lot of hard rock with superb guitars from Adrian Gurvitz. I am not surprised that he is rated among the top ten best guitarists in the world. His work on this album and the two previous albums are breathtaking. Very intricate solos and backing work. A top rate musician by all means and he really sets this band and album alight.
The band has calmed down a bit on this album and have even included a pretty bad ballad here. A tearful ballad. It is best forgotten..... and forgiven.
The more positive developments here is the return to some The Beatles like melodies. A couple of these tracks has some strong hints of the Sgt Pepper era.
The quality is good throughout and I like this music a lot. What this album is lacking is a killer track or two. Besides of that, don't ignore this band and this album. Check it out.
3 points