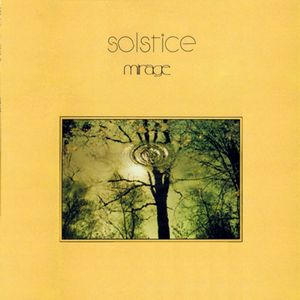 The debut album from this Canadian band.
The band was a quartet with a lineup of guitars, clarinet, percussions, bass and drums.
Solstice released two albums between 1978 and 1981 before they gave up the ghost.
Solstice was one of the bands in the famous and highly quality driven Quebec scene. A scene who gave us Maneige, Harmonium and some other bands. It is also one of my favourite scenes.
Whereas the other Quebec bands were fusion, folk prog and eclectic prog, Solstice went a slightly other path.
Mirage is much more straight quartet band jazz than fusion. These thirty-seven minutes reminds me a lot about both Weather Report and Nucleus. A hybrid of those two.
The tempo and mood is pretty melancholy throughout. The clarinet is the main instrument here and it has it's own sound and ambience. There is some ballads here where the clarinet, played by Michel Martineau, really comes up with the goods. There are also some good half-acoustic guitar solos here.
This album perhaps not fully blown jazz. A bit fusion is what we also get here. Nevertheless, it is a good intro to the pleasures of jazz.
The quality is not always good here so I am again falling down on a mix of decent and good here as my verdict. Nevertheless, Solstice has been added to my collection of Quebec bands I like.
2.5 points