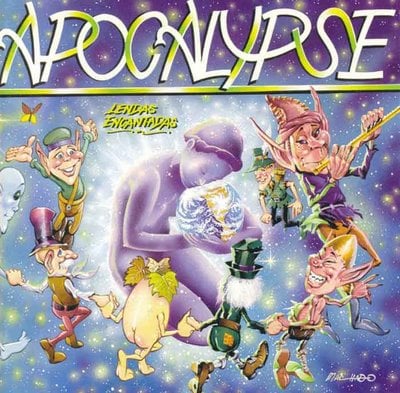 The fourth album from this Brazilian band.
The band was a quartet with a lineup of guitars, keyboards, bass, drums and Portoguese vocals.
I very much liked their third album Aurora Dos Sonhos and
rated that as a very good album
. So I was looking forward to this album.
Apocalypse is one of those bands who tries to carry forward the great South American prog rock scene from the 1970s. But with other means than just symphonic prog.
This band has been operating somewhere between neo-prog and symphonic prog throughout their first three albums. This is a great territory to explore. And it is being explored by a lot of bands too.
On their previous album Aurora Dos Sonhos, they were leaning towards symphonic prog. One year later, they ordered a removal van and went back to neo-prog again.
.... Which is what this album is. Lendas Encantadas is a neo-prog album through and through. Neo-prog in the Pendragon and the English style of neo-prog. The songs are not that long, averaging five minutes. It is only the final track Levando A Vida who passes the ten minutes mark.
We get fifty-two minutes here divided on ten tracks. Ten pretty light hearted neo-prog tracks.
The music is good throughout. No problems there at all. I pretty much like this album. But it is not a great album from a band who really need to release their potential. Something they have not done on this album. Nevertheless.......
3 points