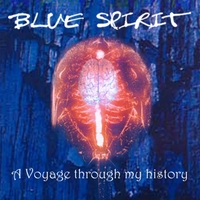 The one and only album from this German band.
Blue Spirit
was a trio with a lineup of guitars, bass, drums, keyboards and vocals.
The band was one of those who released an album through CD Baby and then gave up the ghost. And I mean nothing bad about CD Baby at all. But this band was not meant to be and they split up. I don't think anyone from Blue Sprit is still involved in music.
This album is in five acts and it is a concept album about a man. I know nothing more about this.
The music is a mix of Dream Theater and neo-prog. The band claims they sounds like Genesis too. I am not so sure about that. The more melodic parts here is most definate mainstream neo-prog. The band does not bring anything new or exciting to the scene with this album.
The sound is pretty poor. The drums are far too much in the front of the mix. The drummer is not great either. The guitarist, bassist and the keyboardist is more competent. The vocals is horrible and I am pretty sure the vocalist got some lifelong injuries on his very strained vocal chords after finishing this recording.
I am afraid this is a very poor album and a turkey. And it is best forgotten. I am sorry.
1 point