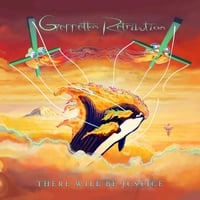 The debut album from this US band.
Geppetto's Retribution
is a quartet with a lineup of organ, bass, drums, guitars and vocals.
The band has been working on these songs for the last ten years before they recorded and released them as this album.
The band was added to ProgArchives some weeks ago and I got a copy of this album based on the art-work and the promise of some retro-rock.
This album is indeed retro-rock where the band looks back to the 1970s. Which is nice....
This fifty-three minutes long album is a classic rock album with a lot of funk and some jazz influences. This is indeed a very funky album with lots of guitars and organs.
The vocals is good and the songs are catchy. There is not much progressive rock here and not many interesting details. The songs are almost good. But they are not quite there. This is music for the younger generation too. This is good pub rock and music which suits the gigs scene more than being recorded.
This is a decent to good album which does not really hits the right notes.
2.5 points