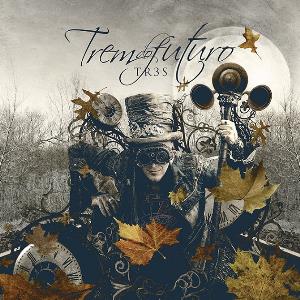 The third album from this Brazilian band.
Trem Do Futuro was a sextet with a lineup of violin, bass, drums, guitars, keyboards, flutes and Portoguese vocals.
Their first two albums showcased some good Brazilian and Latin - American symphonic prog. In particular on the semi-classical album O Tempo from 2008.
The band had lost their original members in the seven years between O Tempo and their 2015 album Tr3s. And most of the symphonic prog was also gone.
The forty-five minutes long Tr3s still have some symphonic prog. It also has some disharmonic rock and folk rock too. The vocals is pretty dark and gloomy.
Gloomy is the word here with some strange and disharmonic drums, guitars and bass laying down the melodies. The music is also a bit on the weird side. This is not a one dimensional album by any means.
I am not happy about their change of direction. Much of this album is too gloomy for my liking. Too weird.
Half of the music is barely decent and I am not really finding much to enjoy here. It is a decent album but also a fall from grace for this band. Check out their first two albums instead.
2 points