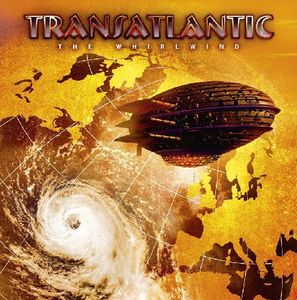 The third album from this international supergroup.
Transatlantic
was as we all know a band with Pete Trewavas (bass, synths, vocals), Roine Stolt (percussion, moog, mellotron, minimoog, electric guitars, vocals), Neal Morse (acoustic guitars, keyboards, vocals) and Mike Portnoy (drums, vocals).
They were helped out by four other musicians too who provided finger snaps and French horn.
These guys are the royal family of the prog rock world. They comes from bands like Marillion, Dream Theater, Spock's Beard, Kaipa and The Flower Kings. They have branched out to other bands too and is very active.
I have reviewed their first two albums for ProgArchives and I really liked them a lot. I still do.
The Whirlwind is a seventy-seven minutes long song. The track is a suite with several different parts. I will label The Whirlwind as a suite.
If you get the 2CDs version, you get some live tracks and some other original tracks. Go for the 2CDs version although I am only reviewing the 1 CD version.
This suite is divided into several own pieces of music. There is no real theme going through the whole suite, binding it together.
The music is really clever and beautifully presented. This is really symphonic prog and mix of all the bands mentioned above.
There is no really excitement and no great pieces of music here. That said, this is a good album and one to check out and indeed purchase for all those into these above mentioned bands and symphonic prog.
3 points