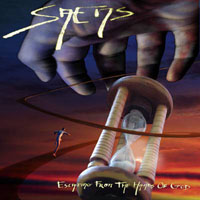 The second album from this French band.
Saens
was a quartet with a lineup of MIDI winds, guitars, bass, drums, percussion, keyboards and vocals.
They also had help from a cello player, pianos and flutes.
Saens released three albums between 1999 and 2004 before they gave up the struggle and quit the scene.
The band played neo-prog of some sorts. Symphonic neo-prog with some French symphonic prog influences and Camel influences.
The vocals are pretty dramatic and the songs are all long on this seventy odd minutes long album.
The music is also pretty dramatic and pompous. Lots of guitar solos.
Unfortunate for the band and us listeners, the music is not interesting at all. The music here goes nowhere fast and ends up in a quagmire. That is why this band and their three albums is not that well known and popular.
This is a decent album and that is really that.
2 points