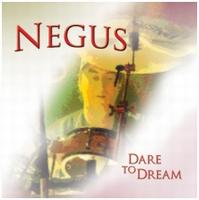 The one and only album from this Canadian band.
Negus
was a quintet on this album with a lineup of guitars, drums, bass, keyboards and vocals.
Negus = Steve Negus, the drummer in
Saga
. Saga has a world wide following and I am one of those who really like this band. They were no less the first prog band I ever liked.... although I am not sure if Saga ever was a progressive rock band. That debate is for another day and place, though.
Steve Negus felt he needed another forum to express his ideas than Saga. Hence this album. A one-off album, I believe.
Dare To Dream has a wide variety of genres incorporated. Saga like pomp rock, funk, neo-prog, US stadium rock, hard rock, melodic rock and prog metal. You will find it here.
The drums are organic and fluent. The vocals also good, but pretty standard for this kind of music. The guitars are very much in the Saga style of pomp rock.
And this forty-five minutes long album is indeed a good journey through melodic prog rock. The music sounds a bit like it was made in the 1990s.
So far, so good. My gripe with this album is the lack of any great or good songs. There are flashes of good stuff here. There are also a lot of dull stuff which makes me nod off and go for a sleep on the sofa. Hence my rating of this album which is a must-have for all Saga fans and perhaps one all fans of melodic rock/prog should check out too.
2 points