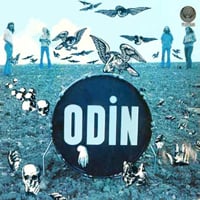 The one and only album from this British band.
The band was a quartet with a lineup of vibraphone, keyboards, bass, drums, guitars, percussion and vocals.
This album was released on the famous Vertigo label. A label which is now very popular among collectors. It was later re-released in the 1990s on CD too.
Their music has rightly been labeled as heavy prog by ProgArchives and there is no disagreements from me here.
The music is heavy with a lot of early Deep Purple references. But there is a lot more to their music too. There is a lot of beat and psychedelic rock here too. There is even some pretty notable ELP references too.
The music is brash with a some good vocals. The sound is the typical 1970s sound. A good sound but a bit outdated anno 2017.
The keyboards and the guitars are good. The music is not that good and it is seriously lacking in quality.
This is a decent album which will please those into harder progressive rock. I am not won over.
2 points